Financiers
Financier, our customers' long time favorite of over 40 years since its launch. Ever since the first day we created it, we have always been in pursuit of more perfect ingredients and recipe to make it even more scrumptious.
Financier means financial professional in French They say that the most widely-believed theory on the origin of financiers is that a pâtissier who was running a pastry shop by the street near the stock exchange in Paris devised this form of small pastries so people can quickly eat without having to worry about soiling their suits.
Well-blended fragrant almond varieties, Marcona and Fritz, and our original cultured butter from Hokkaido are used as some of the ingredients. Experience the savory fragrance of the almonds and mellowness of cultured butter of the financiers with a mission to be the best one in the world.
Note:]Available period: all year round

Corporate Order
Customized package design development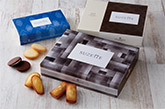 We also develop special and original package design, customized for your needs.
For anniversary gift or giveaway for business occasion, please consider this special offer from Henri Charpentier.
For customized package design order >