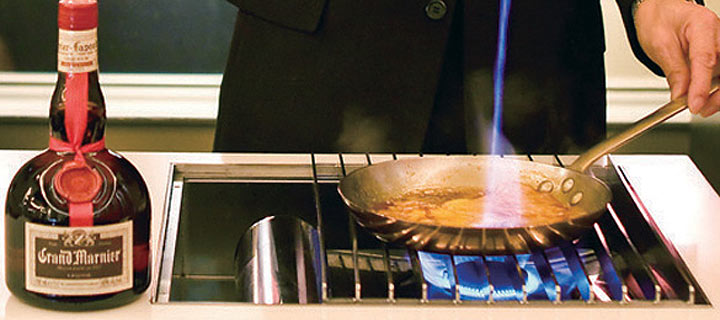 Allure of desserts, hospitality as if you are in a restaurant…
Crêpe Suzette is a menu item served at all of our Cafés. It is a dessert that provided a spark for our Founder to open a coffee shop. Naokuni Arita, the Founder, was fascinated by a dish of dessert during his trainee days at a restaurant. Crêpe lightly simmered in orange juice pouring over liquor blue flame rises customers happily smiling over the flame. Arita was deeply impressed by this dessert, just one dessert that is capable of making people so happy.
Our serving style of wagon dessert remains unchanced from those days – we are still bringing the wagon dessert to the customers' table and flambé in front of them. To deliver "happiness", "pleasure", and "wonders" to each and every customer through the authentic desserts that are normally served at fine restaurants, and pastries we create with meticulous attention. That is our commitment behind the blue flame of Crêpe Suzette, and is our grass root.